Mallorca Camps 2019 – review
Our last days at Malle (… is known to be only once a year …) are now behind us, Christmas and the New Year are ahead of us. We used the time on the plane and here in Cologne to talk about the 2019 Mallorca camps in finca and hotel and to think about the good time we were allowed to spend with our fellow travelers on the island!
Mallorca in pictures
Yes, we had a fun, happy, windy, sunny, delicious time with many lovely, nice people on Mallorca!
Unfortunately, a few not-so-loving thieves intervened this year too, who wanted to free us from our belongings. Congratulations, you did it. The broken side window of our rental car, right in front of the hotel entrance and in the middle of the day, put a lot of strain on us. Especially when you consider that we and our group were standing on the beach less than 50m from the car. But yes: Opportunity makes thieves. So keep your eyes peeled when planning the material storage during a kite day … 😊
The break-in kept us busy for a long time: without a cell phone, without money, without credit cards and especially without a driver's license, it is admittedly a bit more difficult to stay on the island. So once again a big THANK YOU to everyone who has helped us so lovingly! Be it with money, credit cards, car rental or just emotional support!
We have not found anything again (including the police / lost property office / …) so far. However, during our time on the island there were some newspaper reports that several gangs of thieves who were up to mischief, especially in Playa de Palma, were caught. Yay!
Fortunately, we stayed healthy and still lively and were able to enjoy our time on Mallorca well despite everything – not least because of the once again extremely pleasant tour groups!
Here is a small selection of pictures as a souvenir or as a foretaste , in case you would like to accompany us to the beautiful island in the Mediterranean. Because even if some of our customers (funny enough mostly Saarlanders) claim that the wind doesn't make this island happy that often: this year we had a lot of days when 4 and 6 square meters on the water were also appropriate! And we're not talking about days when the foil was used …
All in all, we made it together in the 6 weeks on over 1000km of kite-distance. Next time we will plan to log every single session. There's more in it …
We still feed on our wavy last day of kite in 2019 and our bones and muscles remind us of it too. The weather was much cooler than in previous years, but we have never had such high waves on the island – and with 4 and 6 we were more than good on our last kite excursion!
Thank you Mallorca, thank you kitesafe friends, thank you Petrus!
Oh yes: do you already know our small but slowly growing photo corner on the website? We upload a small (?) Selection of pictures from each trip piece by piece, to browse, look up, remember and of course to bridge the time until the next trip! Unfortunately, our beautiful little kitesafe.de camera was also permanently borrowed from an unknown person during the break-in, so there are also a few less professional pictures from our cell phones in addition to the pictures of our travel guests.
We wish you and your loved ones a peaceful and happy 4th Advent. Enjoy the time, meanwhile we're still unpacking our mountain of luggage. And since we have packed good weather, of course, we will send you a lot of sunshine from Spain for the holidays!
The next trip starts with a small expedition group to Penghu before we reopen the doors of our kite school for you in Loissin at the end of April. If you want to learn with us beforehand: Our kitecamp in Egypt will run from 03.03.-21.04.2020 – THE goal if you want to take lessons before April and don't feel like having (ice) cold feet!
Yours, ThUsi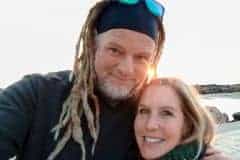 PS: Do you like our look back? We are already busy looking for pictures from our 2019 Denmark tour …