Wadi Lahami - our dream spot on the Red Sea ...
Deep in the south of Egypt ... surrounded by sand, more sand, mountains and a little more sand is Wadi Lahami, a small bay in the middle of nowhere. At the northern end of the bay, the RedSeaDivingSafari pitched their tents for us in the form of an EcoLodge - and from these tents it is less than a 5-minute walk to the kite station, the restaurant or the water!
ALL INFO ABOUT THE WADI LAHAMI KITECAMP AT A GLANCE
| For all levels | Coaching and support included |
| --- | --- |
| Transfers from / to Marsa Alam included | SUP rental included |
| Accommodation in a chalet, royal tent or tent | including meals |
| Rescue included | Storage included |
| exclusive Air travel and visa | from € 519.00 / person |
Our camp is located in the middle of a diving camp built in 2001 and designed for environmentally friendly operation and ecotourism, the Wadi Lahami EcoLodge. The kite station has been rebuilt since 2020 and, in addition to a shower, toilet and fresh water barrel, offers a large bar, storage, rescue and enough shaded areas to relax.
The kite spot is less than 100m away from the station and offers perfect flat water conditions in a bay protected from waves and a standing area of approx. 200m x 400m - ideal for beginners! The standing area is separated from the Red Sea by a sandbank, behind it it is approx. 400m to the tip of the house reef - behind it the swell pulls through and it becomes much more wavy from the shallow water playground. There is no breaking wave for wave kiting; short mini-downwinders around an offshore reef offer good descents.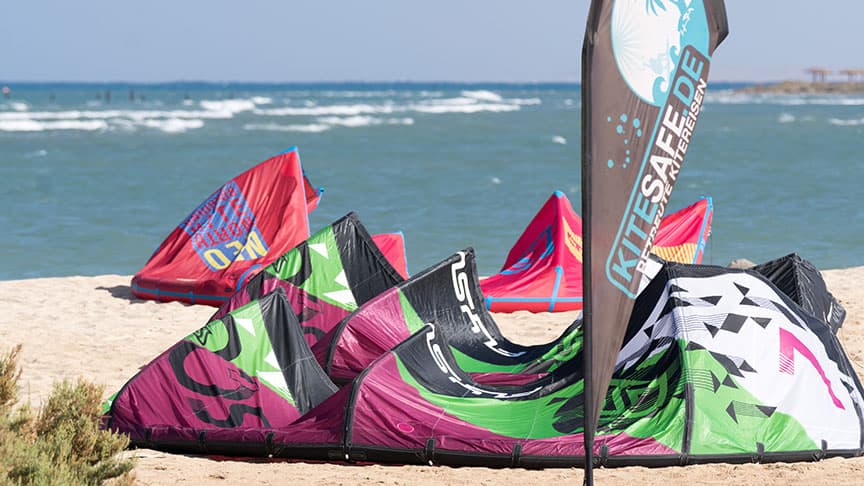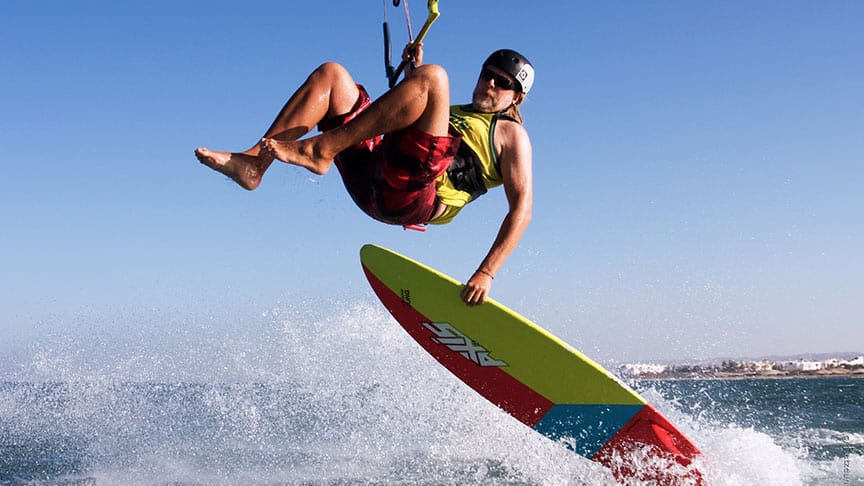 If you have to walk uphill often or are just starting to kite, you should definitely bring sturdy shoes with you - at the southern end of the bay there are isolated stones with sharp edges ...
If you get into trouble while kiting inside or outside the bay, we will come to your aid - either by kite or by rescue boat.
Apart from the camp and a hotel in the south there is actually only "nothing" in the area. If you are looking for discos, bars, restaurants or similar, you will not find it in Wadi Lahami. The team at the kite station invites you to have cold drinks and music in the evening - after a long day on, in and on the water, you probably won't want to do much in the evening either ...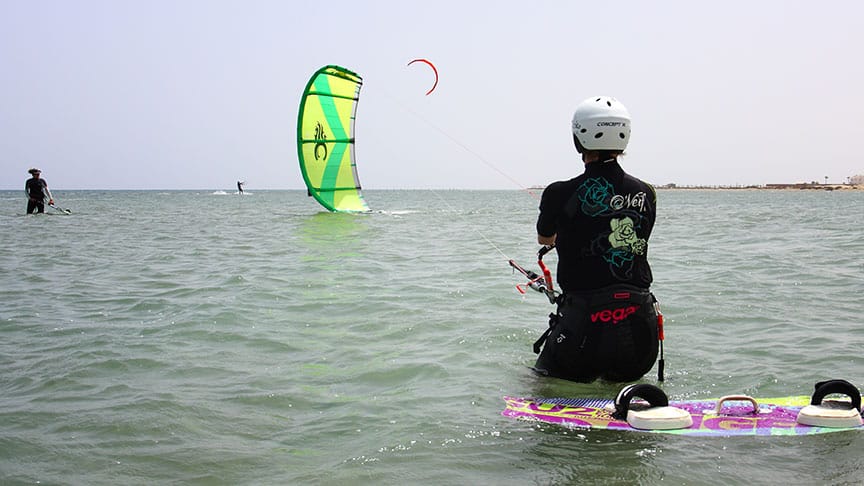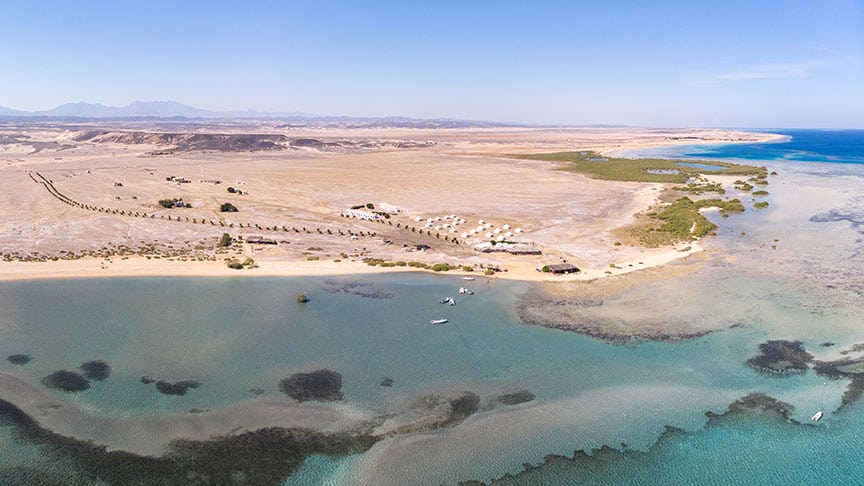 Wadi Lahami is our trip with the highest wind safety - on average we have 5-6 kite days / week! The wind tends to blow between 10-20kn, but we also have days with strong winds> 30kn caught. 9/12 / 15m ² has proven to be a good setup, larger and smaller kites do not hurt, as I said.
Air temperatures fluctuate greatly during the day - shorts and a shirt are sufficient in the sun, and it gets significantly colder in the evenings / at night. The water temperature never drops below 20 ° C, in February a long 3mm neoprene can be comfortable, in April boardshorts & lycra / neotop are usually sufficient. Our recommendation: bring an overknee wetsuit in 4 / 3mm so that you are well served. Should you be driving without a helmet, be sure to bring a hat to protect you from the sun!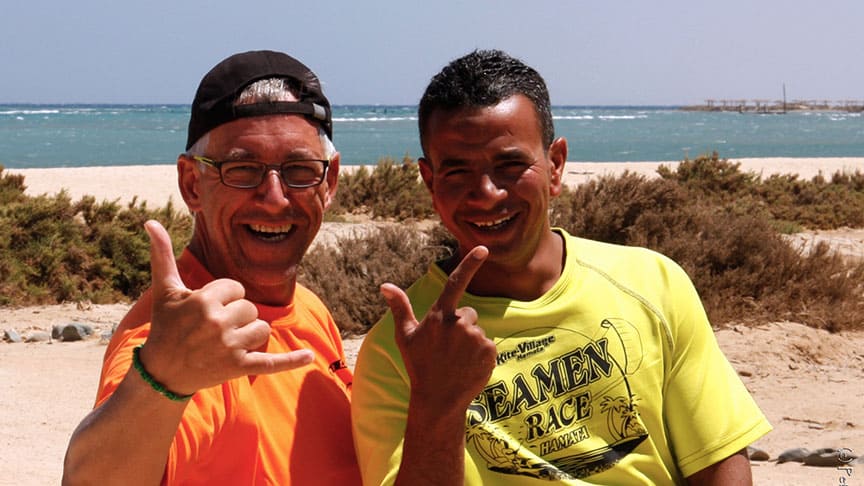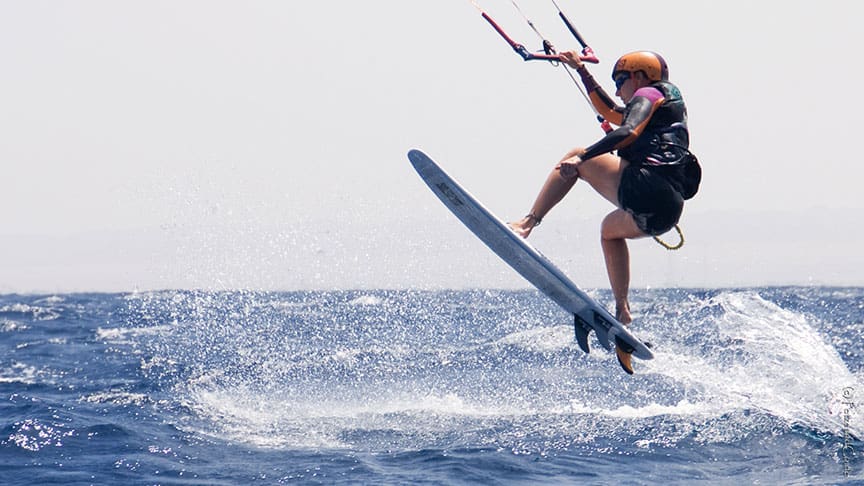 We have DUOTONE material with us for lenders and students (please register early!), With which nothing stands in the way of your sporting success on the water. For last-minute travelers, there is also the option of renting equipment at the kite station on site.
Our SUPs and the house reef located directly on the windward side provide alternatives for lulls, here you can set off from the beach on breathtaking snorkeling excursions. And of course there are taster and diving courses in the diving camp, the underwater world in this part of the Red Sea is simply stunning!
If you prefer the mountains or the desert, you should take an afternoon for a quad tour into the adjacent mountains and the foothills of the desert. Or maybe an astro tour with impressive skylights ...?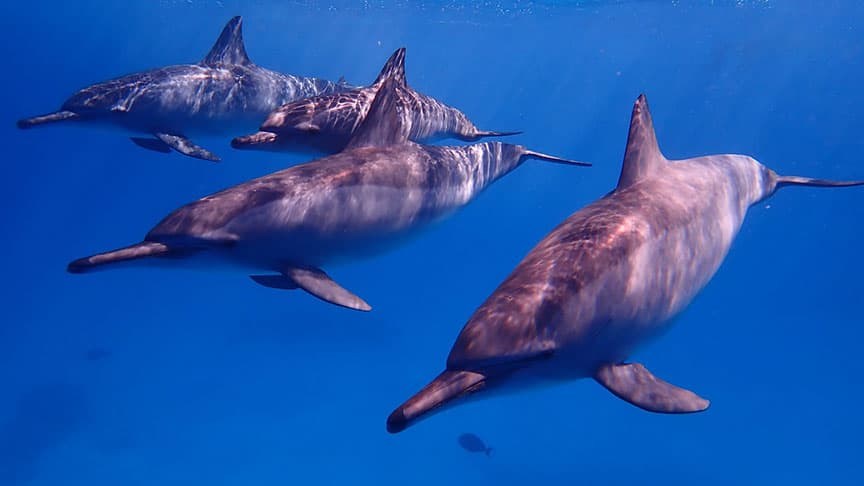 The kitecamp in Wadi Lahami includes "non-alcoholic all-inclusive": Breakfast, lunch, dinner as well as soft drinks, tea and coffee are included in the price. The food consists of a mix of international and local cuisine, special requests (vegetarian / vegan / intolerance) are taken into account as far as possible (please announce early enough!). Alcoholic beverages (beer, wine) and snacks (chocolate bars, ice cream) can also be ordered for a fee.
When it comes to accommodation, you can choose between three different options: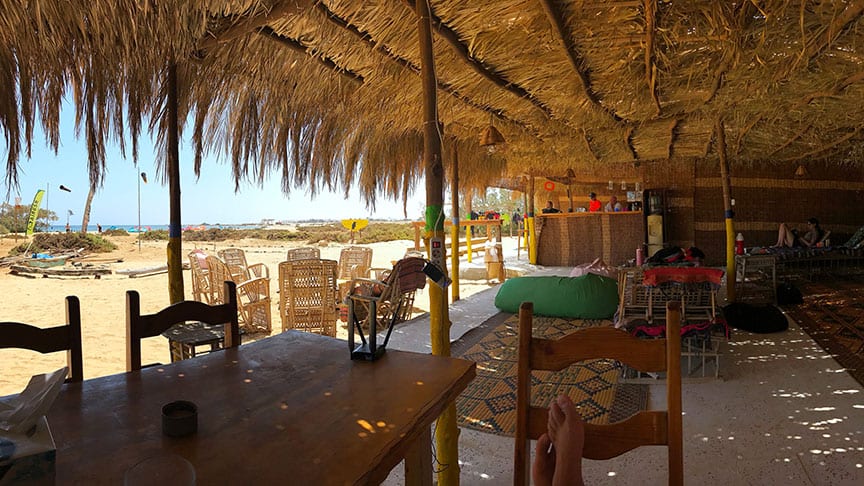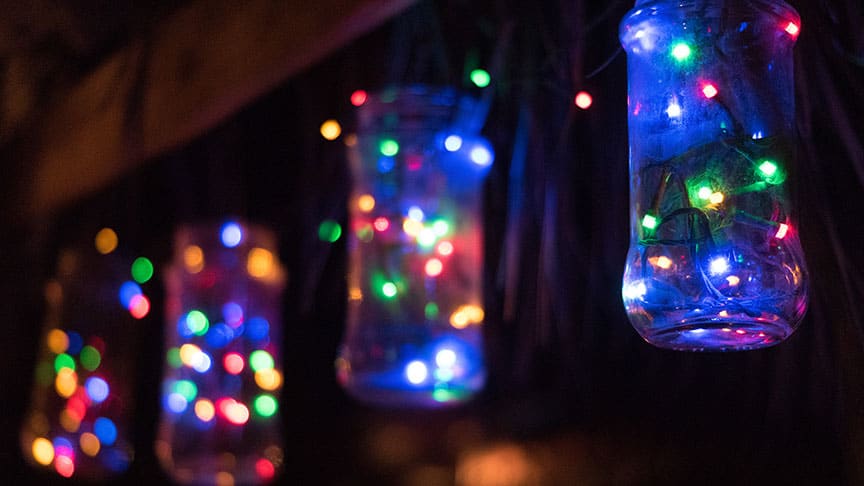 Tent - the simple accommodation
A simple tent with 2 beds (not a double bed!) And a small shelf. Here you will find enough space to sleep and store your luggage alone or as a couple; everything else takes place outside of the accommodations anyway. Distance to the wash houses max. 3min walk. Tent size: approx. 3.5 x 3.5 m (12.25 m²).
Royal Tent - the "premier class"
Equipped with either a double bed or 2 single beds, the 5x5m (25m²) Royal Tent offers enough space for a refrigerator, fan and a small seating area. There is a small table with 2 chairs in front of the tent. In our opinion the "perfect" tent for 2 people.
Chalets - apartments in Arabic style
The only brick-built accommodation in the EcoLodge offers a bedroom / living room and a private bathroom. If you don't want to do without a real brick room on vacation and can resist the charm of the desert tents, the chalet is the right choice for you!
| PRESEASON | Tent | RoyalTent | chalet |
| --- | --- | --- | --- |
| Double room | € 589.00 / week | € 649.00 / week | € 739.00 / week |
| Extension day | € 70.00 / day | € 75.00 / day | € 95.00 / day |
| Single room | € 659.00 / week | € 739.00 / week | €869.00 / week |
| Extension day single | € 80.00 / day | € 85.00 / day | €115.00 / day |
| RENTAL / COURSES / STORAGE | | | |
| Training kite / foil / wing | € 89.00 / hour | Radio training | Material included |
| Material rental KITE | € 350 / week | current DUOTONE material | Kitepool - always suitable |
| Material rental WING | €450 / week | current VAYU material | Wingpool - always suitable |
| Material storage | 1 storage box | per person | included |
FREQUENT QUESTIONS AND ANSWERS
Sometimes everything is actually very clear - and yet this one little piece of additional information is still missing. We have put together a few answers to the most common questions in our FAQ. If you can't find an answer to your question there either, just write to us .
BIS BALD IM WADI - WIR FREUEN UNS AUF DICH!