2022 – a (personal) look back
Strange. According to the calendar, today is 12/31/2022. But it feels like the year has only just begun… or has it really been 12 months since we started thinking about 2021? Probably, also according to the internet it is 31.12.2022 – and the internet never lies 😊
Okay, so looking back at full speed ahead…what was going on this year?
Travel Winter/Spring 2022
Lapland 2022
Our 2022 travel season started right away with a setback – Corona is all around, and the northern countries are declared high-risk areas. So we cancel our long planned and completely booked snowkite trip to Finland at the end of 2021.
Too bad, would have been a great premiere. And I say that with a clear conscience, because after all Steffen and I took advantage of the time and went on a road trip to the Pallas Mountains in Lapland, our camp spot. 3x ferry, endless miles in a caddy and almost 2 weeks of snow and *cold*. Our daily low temperature record was -37.5°C according to the on-board computer…
All in all it was a really exhausting trip (keyword: snowshoes, snowboard in deep snow & caddy with tail lift 😉) with endless impressions and wow-moments and convinced us to offer a snowkite camp also for 2023. Which, funnily enough, we had to cancel again, this time due to too few participants. So we are venturing another try in 2024 – dates are not set yet, but we will offer the camp again. If you want to be registered, just get in touch with us!
Want a few pictures from the trip? You can find the highlights here:
Long time no see – back in Wadi Lahami
Egypt was also back on our list of destinations this year after a break of several years. And we were not disappointed: the wind saved itself and we had significantly more wind over the entire camp duration than in all previous years. But it was – admittedly – a bit fresher than usual. But hey, wind makes at Kite & Wing yes again warm 😉
In addition to a new kite station and lots of new riders, the wadi with its small bay above and below the water has again thrilled us all around. Therefore, it is no longer 2 months until we are back on site – and we are already looking forward like crazy to wind, sun & great fellow riders! Info about the camp can be found here:
BeachBar
Back in Loissin, the project "PaddleBar" was on the agenda! In record time, we set up containers, removed and put them away; built the floor and made the bar ready for operation. The result is quite respectable – and after the first season "BeachBar Loissin" we can look back positively: a complete success!
Besides drinks served with love, the bar had a lot more to offer:
We've moved our SUP fleet from the kite station to the bar for easier access to the water and to help you regain your strength after paddling with music & drink at the bar.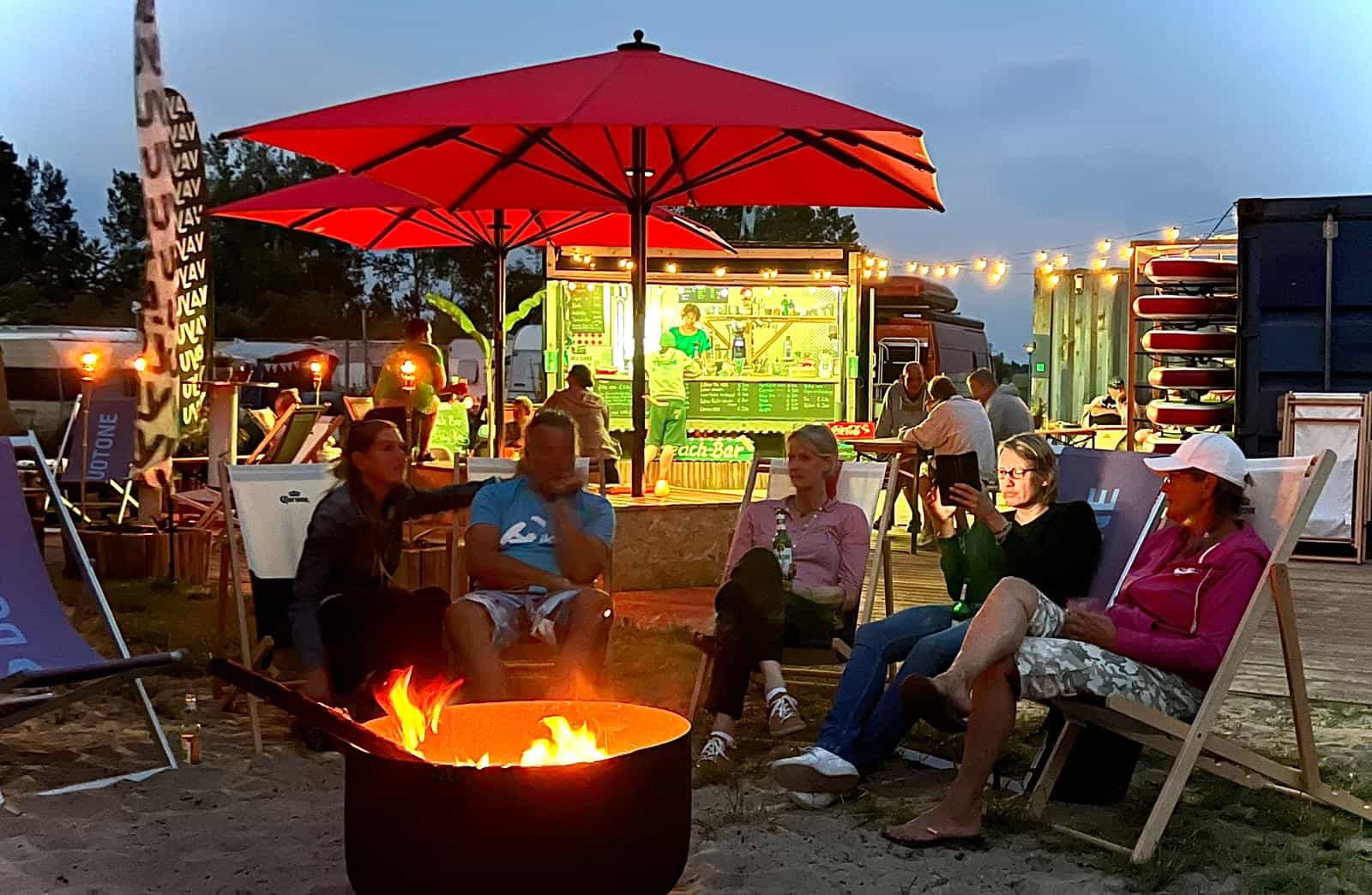 Speaking of music: in addition to the weekly lapping fire (always on Fridays in good weather – bring your own barbecue, we provide grill & coal) we were able to establish another highlight at the BeachBar: Live music!
Every Saturday we had different solo artists & bands performing, wowing the guests with their music. We liked it so much that we were already able to book the first gigs for 2023. Be curious – the concept of outside & for free is simply fun and in a good mood.
And if you make music, poetry or comedy or produce any other form of art, please contact us – we would like to offer a kind of open stage for everyone for the Laberfeuer and are looking forward to any form of "I do something"!
Wingfoil
You really don't have to follow every trend. I think so too. However, wingfoiling did cath me quite well – through an exciting mix of windsurfing & hydrofoil, wingfoiling fills a gap that windsurfing & kitesurfing don't: everything is direct and with you, no lines, enough buoyancy to paddle home in a calm, no huge "radius of death" 😊….
And after the first attempts and successes (and failures – boah it's exhausting!) I decided to bring VAYU & AXIS on board as competent partners for the Wingfoil area. Wings, Foils & Boards have passed their acid test in 2022 (and continue to pass it on our trips) and will also be available to you at the BeachBar in 2023. And if you're not convinced yet, just come by and we'll see if wingfoiling might not become exactly *YOUR* sport. The requirements are not too difficult: apart from swimming you don't have to know anything, we will teach you the basics in no time.
Increase
In addition to our team of kite instructors, Susi, Anne, Tina, Franzi & Diana joined our team at the bar in 2022. Svenja from Pohlmann Media helps us with content and media – and rocks the bar with us from time to time. To all of you: 1000 thanks for your commitment in the season 2022!!!
And then there was for a short time kitesafe.de in Wremen at the North Sea! In 2021, at an IKO course, I met Ansgar, who called in the winter of 2021 and wanted to start a school in Wremen. By joining forces, we paved the way for him to get started with his school – and as far as I can tell from afar, it worked pretty well 😊
Unfortunately Ansgar decided in July to continue the school under the name Kiteschule Wremen, which I personally regret very much. But it's his baby, so à let's go, Kiteschool Wremen: here's to another successful year at Wremen town beach!
Blue-green algae
Well, actually not a highlight, but we will probably encounter it more often in the future: the topic of blue-green algae in the Greifswalder Bodden.
In early/mid-August it was a mega-summer weather-wise: temperatures were beyond the 30°C mark, the wind was weak from the east. Perfect for paddling the SUP across the Bodden or going for a swim. And also perfect propagation conditions for an ever-present inhabitant of the Baltic Sea – the blue-green algae. During a sampling of the water quality, an official warning was issued by the public health department due to a significantly increased occurrence of blue-green algae in the Greifswalder Bodden. As a result, we had to cancel our classes and had a few days of "enforced time off." However, the spook was over within a few days and we could work regularly again…
For the future, the topic makes me think – the summers in our region are getting warmer rather than colder, let's see how man and algae will arrange themselves in the coming years. For me, a clear food for thought on the subject of climate change….
Travel autumn/winter 2022/23
After a quite exhausting summer season in Loissin, we were able to hold our camps in Denmark and Spain again this year from mid-September. Without wanting to drift too much into details: they were highlights once again, also this season!
Denmark spoiled us – in the Wavecamp as well as in the Friendscamp week – with proper wind and weather and made us happy. With fire department and good mood we have made in the 14 days several 1000km of distance (insider tip: The most beautiful country roads in Denmark!) and have let off steam in the waves and on the fjord. Again this year we had a lot of new fellow travelers and old hands in the group, which meant that both the time on the beach and in the house was over way too quickly, as usual. But the next DK time slot is up & the house is booked – 9 ½ months to go, then it's hej Planet DK again!
https://youtu.be/oIA6NwfF4KM
Thanks @Mario for the video!
And Mallorca has also shown – at least most of the time – from its friendliest side: Wind and wave directly in front of the hotel door and not too scarce. Great weather, great people, great atmosphere. A tourist couple came by completely packed in coat and asked if it was always so stormy in November in Mallorca – they were here for the first time and not prepared for so much wind…my answer: unfortunately not, but we think it's fantastic 😊
Hasta pronto, Mallorca – see you again in November!
https://www.youtube.com/watch?v=MJfeLKpamas
Turn of the times
Wohooo, didn't the chancellor already use that? Yes, he did…but it also fits our season quite well, I think. As they say, you should leave when it's best – personally, I'm not going to do that in this case (otherwise I would have left a few times already 😊), but there have been some changes in our team – which will change some things for 2023. What exactly will be different? I do not reveal yet, just make yourself a picture 😊
At this point – as every year – it is worth remembering:
We are again looking for reinforcement for our team for the 2023 season. So if you know someone looking for a job or are interested yourself, as always we are looking for support for:
Store / Bar / Wingfoil / SUP / Kitesurfing – just talk to us, we are happy!
outlook
2023 everything will be fine.
https://youtu.be/oIA6NwfF4KM
This would actually say everything important 😊
Nevertheless, I still have a few key data for you:
25.02.-08.04.2023 – Trip: Kitecamp & Wingcamp Wadi Lahami / Egypt
29.04.2023 – Season opening 2023
02.05.-06.05.2023 – IKO Assistant Training Course
08.05.-13.05.2023 – IKO Instructor Training Course
12.06.-16.06.2023 – IKO Assistant Training Course
19.06.-23.06.2023 – IKO Instructor Training Course
04.09.-08.09.2023 – IKO Assistant Training Course
11.09.-16.09.2023 – IKO Instructor Training Course
23.09.-30.09.2023 – Wavecamp Hvide Sande/Denmark
30.09.-07.10.2023 – Friendscamp Hvide Sande/Denmark
27.04.2024 – Season opening 2024
In planning / not yet confirmed:
Wavecamp Loissin
Hydrofoil crash course Loissin
WWW – Wild Wing Week
Kitecamp Mallorca/Spain (expected 11.11.-02.12.2023)
Surprise trip (expected January 2024)
Snowkitecamp Lapland (probably 17.02.-24.02.2023)
Kitecamp & Wingcamp Wadi Lahami/Egypt (probably 02.03.-13.04.2024)