How it all started …
We were actually just looking for a trailer for Denmark. Then suddenly an old Mercedes fire brigade was standing in front of the door. Then ideas were spun and alternatives weighed up, and suddenly we are a fully equipped kite school. How is that possible?
In fact, 2019 should look completely different until mid-August. We are looking for options for 2019 outside Loissin, planning trips for winter 2018/2019. And then one thing led to another: trailers expensive, crap. So take money in hand. And then the plan came up to use a motorized trailer instead of a trailer. Shortly afterwards a fire brigade was visited (thank you Sven !!!) and bought without further ado. Let us introduce: the red Mimmi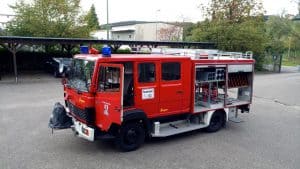 Mimmi was prepared, cleaned up and expanded with a lot of passion and with the use of sweat and blood. And then everything turned out very differently …
The original plan of a mobile kite school has since changed to a permanent station in Loissin, Mimmi will be part of it. And we will keep you up to date on all other news and changes here.
Current status:
From mid-April we will start the season with the first round of kite instructor training, scheduled date: April 15, 2019
We look forward to seeing you there!
Thilo y Susi